I'm Looking to Buy a Boat or RV. Where Will I Store It?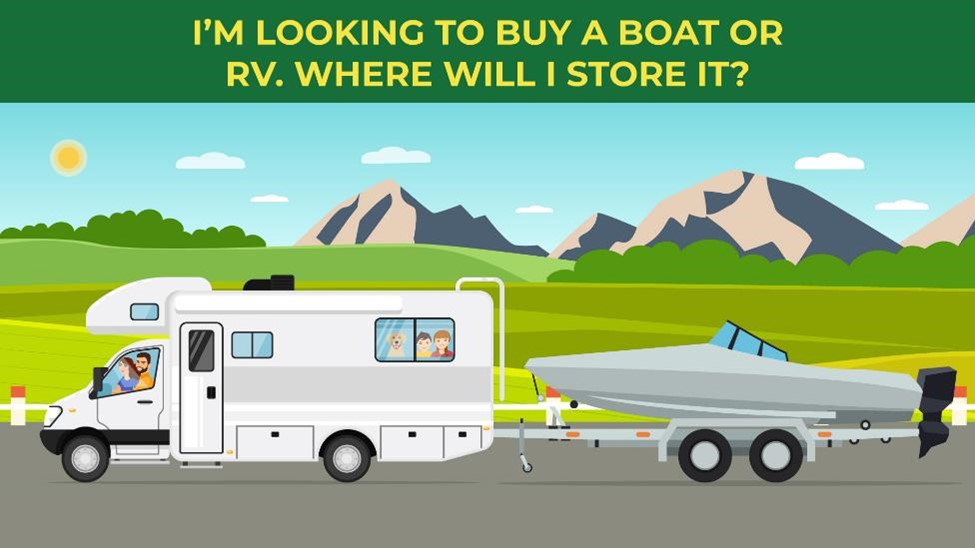 RVs, trailers, campers, and boats aren't simply large, specialized vehicles. They are also unique ways for you to experience the outdoors, and owning one can lead to some wonderfully joyful journeys—from simply exploring North Dakota or Minnesota to going on a cross-country road trip.
But RVs and boats are not exactly the easiest thing to store. Here at Five Star Storage, we routinely get questions from prospective RV and boat buyers about how they can store it and how much it will cost. So for those who are interested in purchasing an RV or boat, and for those who are looking for a new storage solution for theirs, we've put together a guide for how to store your RV and how to store your boat.
Can I Store My RV or Boat In My Driveway?
Parking your RV or boat in your driveway certainly has its benefits. First, you can't beat it's price—free. Second, storing your RV or boat in your driveway is obviously the most convenient storage option possible.
However, there are quite a few drawbacks to storing your recreational vehicle in your driveway. Some of those drawbacks are relatively obvious:
They take up space—By storing your recreational vehicle in your driveway, you simultaneously use up your driveway space as well as prevent your garage from being accessible by car.
They aren't protected by the elements—The vast majority of residential driveways are not covered, exposing your recreational vehicle to wind, rain, snow, ice, and other inclement weather.
They could make your neighbors unhappy—Some homeowners associations don't even allow you to store certain types of vehicles on your property, and if you can, your neighbors might still be unhappy at what they could consider an eyesore
In addition to these drawbacks, there's one other consideration that could make storing your recreational vehicle in your driveway a nonstarter: space. The standard driveway is 20 feet long, and while that's plenty of space for car storage, it can quickly get dicey with recreational vehicles, which are usually longer than your average driveway:
Class A RV—Up to 45 feet in length; full size motorized RVs
Class C RV—Up to 30 feet in length; built on truck chassis
Class B RV—Up to 23 feet in length; also called "camper vans"
Class A Boat—Up to 16 feet in length
Class I Boat—From 16 feet to 26 feet in length
Class II Boat—from 26 feet in length to 40 feet in length
Travel Trailers—Up to 40 feet in length; pulled by another vehicle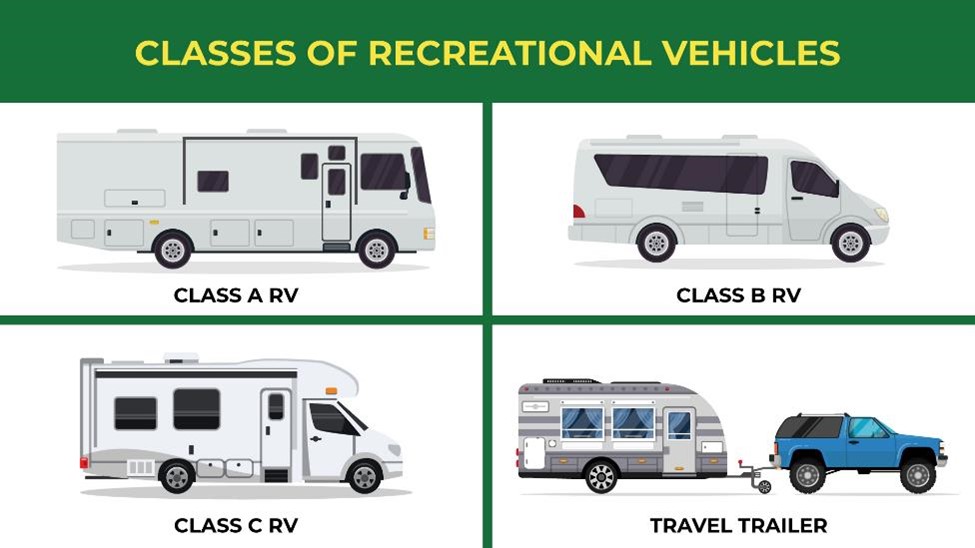 In other words, unless you have a Class B RV, a Class A boat, or a small travel trailer, you simply won't have space to store it in your driveway, and you'll need other storage options.
RV and Boat Storage Options
So, if you can't store your recreational vehicle in your driveway—or you simply want an offsite storage solution—what are your options?
Should I Store My Boat at a Marina?
If you're storing your boat, you have a specific storage option that obviously isn't available to RVs: marinas. Marinas have traditionally been situated directly on the water so that you can simply get in your boat and directly unmoor onto the water. However, so-called "dry" marinas have been becoming more popular, since they do not have to be on the water.
Both wet and dry marinas alike aren't simply a place for boat berthing; rather, they're also a place to find service and supply for your craft.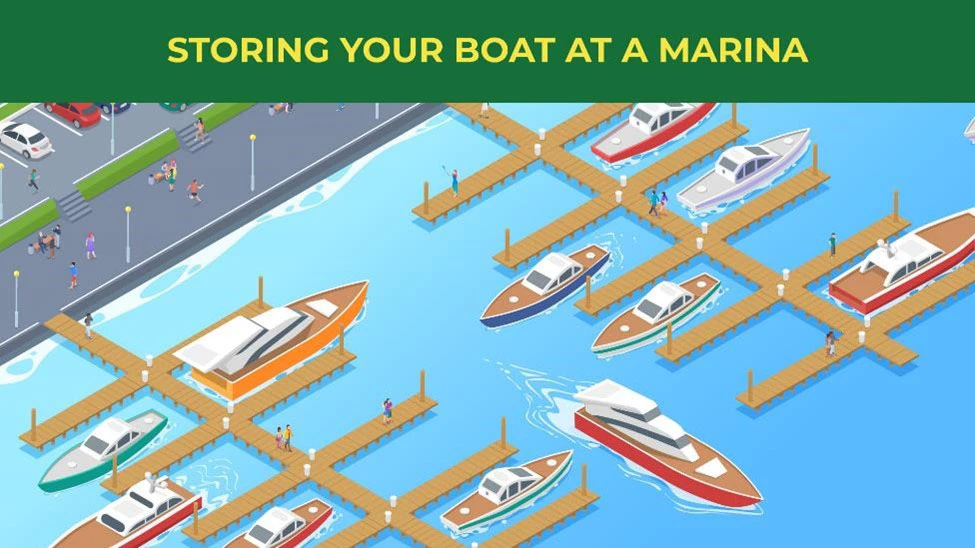 How Much Does It Cost to Store Your Boat at a Marina?
Your berthing cost at a marina is determined by your boat's length on a per-foot basis, from the hitch to the end of the motor. The ultimate price for your berth will be determined by a variety of factors, and varies widely depending on where in the country you are storing your boat. On average, a dock slip in the U.S. will cost you at least $12 per foot per year, with a national average of about $50 per foot per year.
Of course, not every boat owner will want to dock their boat at a marina the entire year. Marinas also offer daily, weekly, and monthly berth rates. Additionally, there are other costs involved, such as:
Security deposits
Utilities (can be flat rate or variable rate)
Taxes
Tips and other fees
The best and easiest way to determine your marina berth cost is to get a quote from your local marina.
Storing Your Boat, Trailer, or RV In Self Storage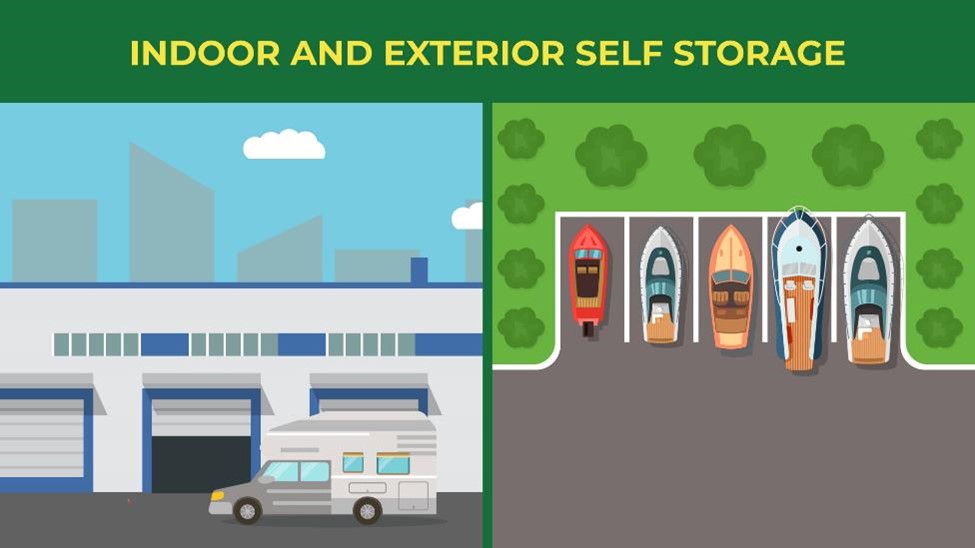 Regardless what kind of recreational vehicle you have—be it a boat, trailer, or motorized RV—self storage is a particularly great option as its temporary or permanent home. Units are rented on a monthly basis, and there are no long-term contracts to get in the way of your adventurous lifestyle. There are two kinds of self storage solutions for your recreational vehicle: indoor and outdoor storage.
Indoor Recreational Vehicle Storage
You might be thinking to yourself: can really I store my boat in a storage unit, as opposed to just a parking space outside? The answer: yes! Indoor storage units are a great storage option for boats as well as RVs and trailers.
When you're picking out an indoor storage unit, there are two main things to consider. First, you'll want to consider length. Indoor storage units can range in size from small to extra large, but you'll probably want a length of 20 feet or more. Second, you'll also want to consider whether you can maneuver your recreational vehicle into the unit. A big unit is only vehicle-accessible if you can get it inside, after all—so drive-up units are the only option, too.
Outdoor Recreational Vehicle Parking
In addition to indoor parking spaces via large drive-up storage units, many storage facilities—including those at Five Star Storage—have outdoor parking spaces for all kinds of recreational vehicles. Depending on the storage facility, these spots can be covered or uncovered, and can be up to 50 feet in length. Outdoor parking spaces are generally more cost-efficient than indoor parking, though they are often in high demand and offer less protection.
For Boat Storage, RV Storage, and More, Trust Five Star
No matter what kind of recreational vehicle you need to store, Five Star Storage is here to be your short-term or long-term storage partner. We've got you covered with both outdoor and indoor parking and storage for you and your storage needs. To inquire about availability or discuss RV and boat storage options, contact the facility nearest you today.
More From Five Star Storage