Self Storage Facilities in Saint Michael, MN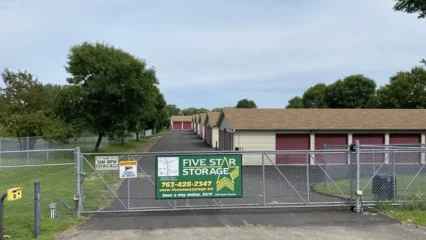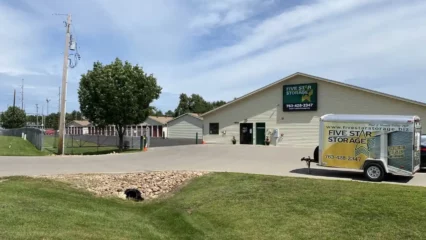 Self Storage in Saint Michael, MN
Just outside of Minneapolis along the Mississippi River lies the town of Saint Michael, MN. An adventure lover's delight, Saint Michael offers plenty to keep you busy and out in nature. Find Pelican Lake, Foster Lake, and Diamond Lake all within driving distance as well as the Daytona Golf Club and Rum River Central Regional Park. With plenty of open space to explore, residents in the area will always have an opportunity to join in on the fun.
Finding open space may be easy around Saint Michael but it might not be as easy to find it around your home. Luckily, Five Star Storage has you covered with storage units in Saint Michael, MN, offered in a wide variety of sizes. Convenient locations and helpful features such as climate-controlled storage and boat and RV storage provide you with everything you could ever need from a storage facility. Store all your belongings with Five Star Storage by renting your Saint Michael storage unit online today.
Saint Michael, MN, Boat, RV, and Car Storage
Even though lakes and campgrounds can be found all throughout the area, you will still need the right equipment to make the most of your adventures. The possibilities are truly endless with recreational vehicles such as boats and RVs to take along with you on all your weekend getaways. Once you've had your fill of the outdoors, come to Five Star Storage for both indoor and outdoor boat, RV, and car storage in Saint Michael, MN.
Climate-Controlled Storage in Saint Michael, MN
Every Minnesotan knows how to prepare for the grueling and freezing temperatures that frequent the winter months. While it's easy for us to bundle up and crank the heat up in our homes to escape the cold, the same can't be said for our delicate storage items. Certain belongings require a more regulated environment designed to help them resist temperature-related damage. Thankfully, this environment is available at Five Star Storage when you rent climate-controlled storage in Saint Michael, MN.
These units remain within a consistent temperature range throughout the entire year to assist in the fight against warping, melting, fading, and cracking. You'll also benefit from a comfortable environment every time you stop by, no matter how hot or cold the weather outside. Enjoy peace of mind while storing wooden furniture, electronics, musical instruments, and kitchen appliances at Five Star Storage. For better protection against those extreme temperatures, rent climate-controlled storage in Saint Michael, MN, today.
Business Storage Solutions in Saint Michael, MN
Renting a storage unit for your business can be the key to better organization in your storefront or office. After all, proper organization means higher efficiency and more profits for your business. At Five Star Storage, we are your go-to solution for business storage in Saint Michael, MN. When you rent from us, you will gain access to spacious storage units perfect for storing financial documents, tools and equipment, office supplies, and inventory. Stop by our facility to begin renting business storage near you today.
Self Storage Facilities Near Saint Michael, MN
When you're ready to make the most of the space you were given, stop by one of our convenient storage facilities. We can help you with residential, commercial, and vehicle storage. Find the Saint Michael storage units you need at one of the following locations:
Get Self Storage in Saint Michael, MN, Now With Five Star Storage!
At Five Star Storage, we don't just stop at offering spacious and affordable storage units in Saint Michael, MN, we also give you the tools you need to succeed every step of the way. Check out our first-time renter's guide and packing and moving tips page to receive advice on the moving process from our experienced storage experts.
Once you're ready to move your items out of your home and into your Saint Michael storage unit, find the facility that is right for you and rent or reserve your unit online today!