Five Ways To Upgrade Your Camper This Spring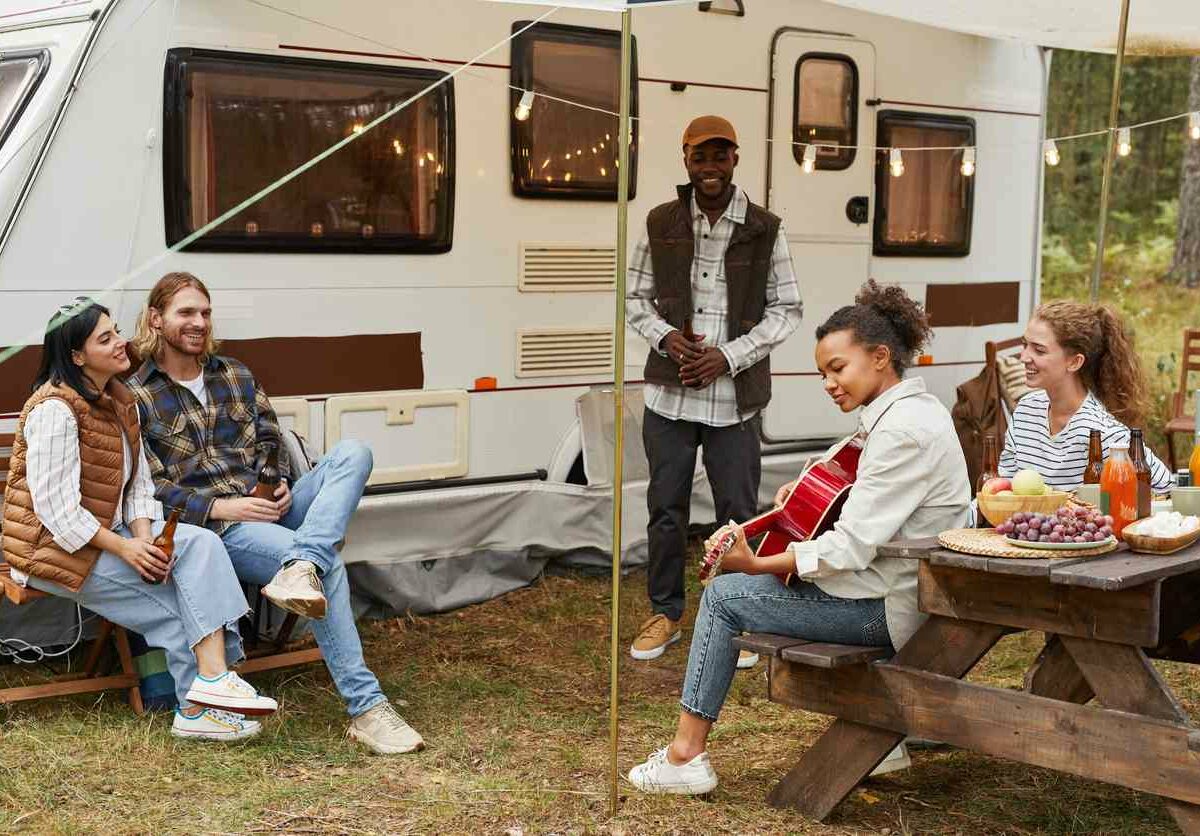 Many people enjoy pulling their toys out of RV storage in the spring to take a few early trips to a nearby park or campground before the summer season begins. However, spring is also a great time to revamp your camper and become the envy of other RV owners wherever your summer journeys take you.
Remodeling your camper doesn't have to break the bank though. These tips on how to remodel an RV and RV remodeling ideas can give you inspiration for your own camper. And, if you aren't sure what to do with your supplies to remodel your camper, Five Star Storage has you covered.
Tips for Remodeling a Camper
If you have remodeled structures before, you probably already have some ways to cut costs. But, if this is your first project, you likely don't even know where to start. Thankfully, we have some expert tips to help you remodel an RV without breaking the bank.
Paint and Wallpaper
Two easy ways to update your camper and make it feel rejuvenated are to remove wallpaper that is out of date or apply a fresh coat of paint. While this may be one of the messier ways to renovate your camper, this is a simple and cheaper way to make your RV feel different and like new.
Update Furniture and Curtains
Another way that your camper can look out of date is when furniture or curtains are ancient. If you have owned your RV for several years or if you bought it used, the furniture and curtains may be out of style or well-loved. To keep your RV's interior looking new and neat is by purchasing new furniture to fill your RV. While this can be a more expensive route, updated décor, and freshly cleaned furniture will do the same.
Re-envision Countertops
While replacing countertops yourself is a fairly inexpensive endeavor, you may feel uncomfortable doing so if you have never worked with counters before. There is another inexpensive way to make your RV's counters feel like they are new. Peel and stick contact paper can provide new life for your countertops without having to commit to a permanent change.
Personal Touches
Nothing makes a camper feel more like home than adding your personality to it. By putting some pictures up on the walls or even by placing some unique décor touches in your RV, your guests will think it feels like a home. Adding pictures of your loved ones or even mapping out the routes you've traveled are incredible and simple ways to inject personality into your camper.
RV Remodeling Ideas
It can be difficult to know where to begin with remodeling an RV if you have never done it before. If you are trying to make a remodeled RV for sale, too, it can be increasingly difficult. However, the ideas are almost limitless when it comes to remodeling.
RV Bedroom Remodel Ideas
There are a few ways you can make your RV bedroom feel like a regular bedroom without spending too much. The tips above can be applied to any room in the camper, but here are some bedroom-specific ideas to help you make it cozier:
Upgrade the mattress and bed coverings
Change out the lighting fixtures
Switch to LED lights and/or add LED strips
Add unique doors (like a barn door)
DIY shelves for the closet
Paint or add stickable wallpaper to the drawers
Purchase wall décor
Bring throw pillows and/or blankets
RV Bunk Room Remodel Ideas
Now that you're inspired to work on the master bedroom, you don't want to leave the kids or your friends behind. Many RVs come with bunk rooms to conserve space while still providing multiple places to sleep. The ideas for those fun rooms are also creative and unique:
Add accent wallpaper or paint around the bunks
Paint or varnish the wood of the bunks
Create cubbies under the lower bunk
Bring plenty of unique pillows and blankets
Enclose the bunks with curtains or drywall with doors
Make the ladder fun and unique
Put LED lighting on the underside of the top bunk and around the ceiling
RV Kitchen Remodel Ideas
The kitchen is likely one of the first places your guests will see as it is usually near the front of the RV. In that case, you want it to look as new and homey as possible. These ideas keep it functional and fun:
Paint the cabinets, cupboards, and even the dishwasher
Purchase a unique spice rack
Bring fun and festive cloths and towels
Add a backsplash to your kitchen
Hang cookware utensils from the bottom of cabinets
Place house plants on the counter (bonus points if they are herbs)
Replace or paint the countertop
Put pictures under the cupboards
RV Living Room/Dining Room Remodel Ideas
Your living room/dining room is somewhere that many people will be passing the time, so it should be another room that has plenty of personality and feels like home. Here are some simple ideas that keep your costs low:
Create a book nook
Replace the cushions of your furniture
Get pillows with replaceable covers
Bring throw blankets
Add shelving above the couch
Place pictures of your travels on the wall
Make an accent wall with paint or wallpaper
Grow unique plants
Purchase fun chairs
Put in a storage place for games
Add a desk lap for work
Cover the floor with a funky rug
RV Bathroom Remodel Ideas
Last but not least, you want your bathroom to be comfortable if you will be primarily using the one on your RV during your trip. Some ways to revamp your camper bathroom space include:
Upgrade the bathroom fan
Put in a uniquely shaped sink or a special faucet
Replace the mirror with a suspended one
Paint or add wallpaper to an accent wall and/or the cabinet
Add towel hooks and a toilet paper holder
Bring fun towels and washcloths
Get some small potted plants
Buy fun soap and lotion scents
Remove the sink cabinet doors and place baskets inside
Make shelves for nick nacks and décor items
There are plenty of ways to reinvent a space, even the condensed spaces on an RV. Whether you are just looking to renovate your camper to be fresh for the next camping season or if you are looking to sell a remodeled RV, these tips and ideas will help you cut costs and create a unique RV for yourself. And, if you need a place to store your RV when the season is over or the supplies you need to upgrade it, Five Star Storage has space for you. Find the RV storage you need in North Dakota, South Dakota, Minnesota, or Montana and get started on your project today!
More From Five Star Storage