Will My New Furniture Fit in My House?
Finding the perfect furniture is half of the problem. Fitting it into your home can be difficult. Here are some tips for how to do so.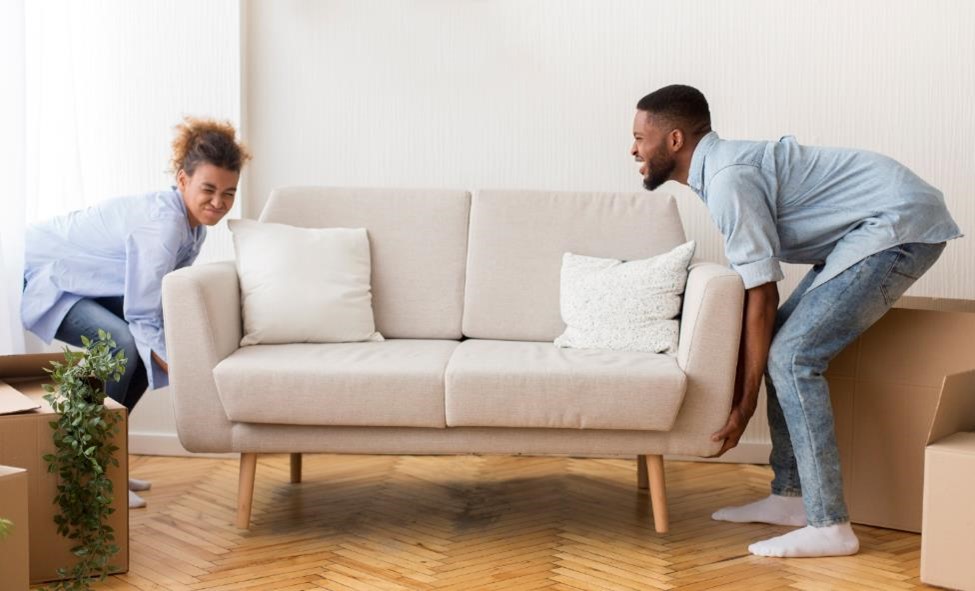 Whether you're renting a brand new apartment for the first time or considering freshening up your living space, buying new furniture is almost always exciting. But before you sit down to make your shopping list, stop and consider the amount of space you have available. There's nothing worse than worrying about whether that brand new sectional will fit in your living room or finding that a door frame is too narrow to get pieces into the home.
If you think you might have trouble maneuvering your tables, chairs, couches, or other comforts into your home, Five Star Storage can help. Let's explore the best ways to make sure your furnishings fit—and how to transport it to your home or storage unit.
Measure the space before you make a purchase.
Some homeowners make the mistake of falling in love with a piece of furniture before they even know where it will go or how to transport it to their home. While you may have a particular style, fabric, or color in mind, it's best to think about size and shape before you even start shopping.
The best way to ensure furniture fits in a room is to measure it carefully. First, take measurements of the space you're planning to put your new chair or sofa. While width and length are important, it's also good to measure the height—especially in the case of bookshelves or cabinets.
Even if you have a home in mind for a specific piece of furniture, it might not be a bad idea to take measurements of the entire room. Your square footage can help a furniture store's interior decorating consultant or sales person determine what kind of furniture meets your specifications. And if working with measuring tape isn't your favorite thing, you may want to invest in a laser measuring tool for added accuracy.
Take your measurements to the store or shop online and use those numbers to guide what you look for. Don't guess that something will fit just because it doesn't look too big. On that same note, don't forget to measure doorways. Many homeowners have been stymied during move-in or delivery by buying furniture that fits in a room but won't make it over the threshold. There are certain remedies to this (especially if you're lucky enough to have french doors), but removing trim from a doorway to accommodate furniture isn't a cheap idea.
Use technology to your advantage.
There is one way to guess about how something will look in your room, and that's using Augmented Reality (AR) to see how items will appear in your home. Some furniture stores offer the ability to use your phone's camera to "place" items in the room where they'll approximately go. It's not perfect, but it can give you a good idea of how something will look before you end up having it delivered. It's not a substitute for measuring, but it can help you eliminate choices before you head to the store to pick them up.
Remove parts of furniture wherever possible.
Whether you're thinking about how to transport furniture or how to get a couch through a narrow door, taking pieces off wherever possible is a good way to cut down on edges and parts that can catch on doors. Table legs that unscrew, removable feet from sofas, and buying furniture that arrives in flat pack boxes are some of the best ways to make sure a piece of furniture can make it through the door and into its intended space. If you're able to minimize the footprint of a piece of furniture during transport, do it.
Disassembling furniture is also a great way to help minimize the amount of room it takes up in storage, too, especially if it's something like a dining room table that can be easily put back together. Just don't forget to keep all screws, nuts, and bolts together. Whether your plans involve hauling the new furniture in the back of a friend's truck or with a rented moving truck or trailer, taking the legs off tables and chairs can keep them safe from dings and dents.
Store furniture that won't fit in your home or that you can't currently sell.
Furniture storage is one tool in your belt that can help when large, bulky pieces won't fit in your apartment. It's also great for helping you move from one home to another. Many self storage facilities have ample space to ensure your stored furniture fits. In addition, storing furniture you're planning on selling frees up space in your home for those new pieces and allows you to meet up with potential buyers in a neutral location.
Don't fret about furniture that won't fit.
As we've discussed, careful measurements and planning can help head off the headache of furniture that just won't fit. But for those items that no longer have space in your home, renting self storage at Five Star Storage can be a great solution. Whether you're in the market for help with your move or need to find a temporary home for big, bulky furniture, visit your nearest Five Star Storage location for help.
More From Five Star Storage