Summer Storage for College Students in Fargo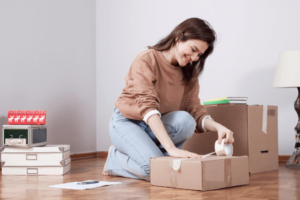 When the school year comes to a close, the students of Fargo, ND, must decide what to do with their belongings as dorms clear their halls for the next wave of students. While some local students can simply take their belongings home with them over the summer, many students don't have that luxury.
Thankfully, there's a solution: self-storage! Five Star Storage's storage facility on 32nd Street is just minutes away from North Dakota State University and offers a variety of units at competitive rates. See why summer storage for college students in Fargo has never been easier.
Why Self Storage Is Great for Student Storage
It's Flexible
No matter how long or how little you need your storage unit, Five Star Storage provides you the flexibility you need. Thanks to our month-to-month leases, you're never locked into a long-term contract and can rent your unit for exactly how long you need it. Whether you need storage for summer break or while you're studying abroad, we've got you covered.
It's Convenient
Other solutions to your storage needs may exist, but none are as convenient as a self-storage unit. Simply bring your items to your unit and leave them there until you're ready to pick them up a few months later. Our storage units at our 32nd Street storage facility in Fargo are also drive-up units, meaning you can load and unload directly from your vehicle. Plus, with extended gate access from 5 a.m. to 10 p.m., you can pick up or drop off items when it works for you—even after you've pulled an all-nighter to finish your final term paper.
It's Secure
At Five Star Storage, we're a member of the Fargo Police Department Crime Free Self-Storage Program. The facility is fenced and well-lit at both day and night, and it's covered by a newly installed video surveillance system. Each renter receives their own personal electronic gate access code, and you can download a free app to your phone for hands-free access. Whatever you store here, you can have peace of mind with our security.
It's Great with Events Both Unexpected and Expected
Sometimes life throws you a curveball. When you're a student, that can be particularly hard to handle. With the convenience, flexibility, and security of self-storage, you never have to worry about what to do with your belongings. Whether it's a relationship change, a job change, or some other change in plans during a period of rapid transitions, know that Five Star is here to help.
College Student Storage at Five Star Storage
When you need additional space for your dorm or when it's time to store your belongings over summer break, Five Star Storage in Fargo is ready to partner with you. With a variety of storage unit sizes and types, there's a storage unit that will work for you.
Your storage needs are an open book test, and Five Star Storage is an open textbook. Come on and ace the test—reserve your storage unit today!
More From Five Star Storage