Proposed Storage Development at 1804 & Washington
About Five Star Storage
North Dakota based, family owned and operated.
Professional management and development since the 1970s beginning in multi-family across the rural North and South Dakota communities and Montana.
Entered the self-storage industry in Fargo in 2004.
Currently own and operate 20 locations across North Dakota & Minnesota.

ND: Bismarck, Dickinson, Fargo, West Fargo & Grand Forks

MN: St. Paul, Rogers & St. Michael

21 Employees.
Why Self-Storage is a Community Asset
Individuals, Families and Businesses alike prefer to store in conveniently located and accessible locations that also provide them with 'peace-of-mind'.
During the COVID-19 Pandemic, nearly every state in the US that had mandated shutdowns acknowledged Self-Storage as an essential business, including Minnesota.

Businesses use Self-Storage for inventory, record keeping, supply chain logistics, etc. This includes health care providers, law firms and retailers.

Residential customers use Self-Storage to bridge the gap while moving between homes, to provide extra space for exchanging seasonal items, to accommodate a college student moving home, marital status change, or loved one's estate, and to store recreational vehicles, etc.

Homeowners Associations (HOAs), Apartment Complexes and Local Governments have covenants, laws and rules that make Self-Storage desirable for area residents.

Many HOAs, apartments and local governments prohibit storage of trailers, RVs, boats, and other vehicles within driveways and side streets.

Many HOAs do not allow sheds, detached garages or outbuildings.

Most Apartment Complexes do not allow renters to use their garage as a storage unit.
Not all Self-Storage is Created Equal…
The 'Ritz Carlton' of Self-Storage
Like renting a room at a hotel (a private room), Self-Storage is essentially renting 'space'.
We provide storage solutions to those who need extra space. However, most understand the difference between Motel 6 and Ritz Carlton, but do not understand the difference between high quality Self-Storage and the rest. There is nothing wrong with a Motel 6, it is simply a different business model.
It comes down to what a particular customer values most: Lowest price? Convenient location? Higher-end amenities?
Five Star Storage wants to be a long-term partner in the community.

Going the extra mile to have higher-end architectural finishes and landscaping that makes the facility fit within the community…rather than simply a few rows of buildings for an industrial park.

People from all walks of life and in varied situations use Five Star Storage. From the happy couple getting married and waiting for their new home to be built, to the heartbroken family who has lost a loved one and plans to store their estate until the time is right. Five Star Storage is there for them to provide a convenient, accessible, clean and safe environment.
Five Star Storage – Legacy
(Hamilton St.- Northeast Bismarck)
*Google Reviews (as of 6.28.2021)
Total of 132 Google Reviews
4.8 / 5 Star Average
96% Positive Reviews
2% (3 total) 'negative' reviews in past 3.5 years
More total reviews than most all Bismarck Self-Storage facilities combined, excluding one facility, that has a primary business of truck and trailer rentals.
In the last 12 months, Five Star Storage has received 243 Google Reviews across all 20 locations with an average rating of 4.8/5 Stars.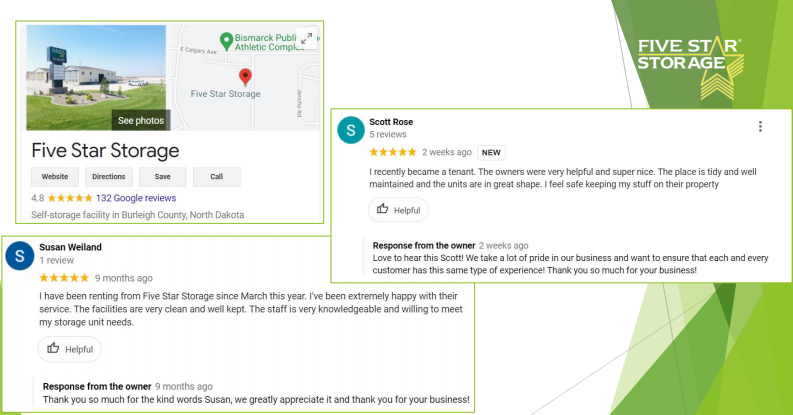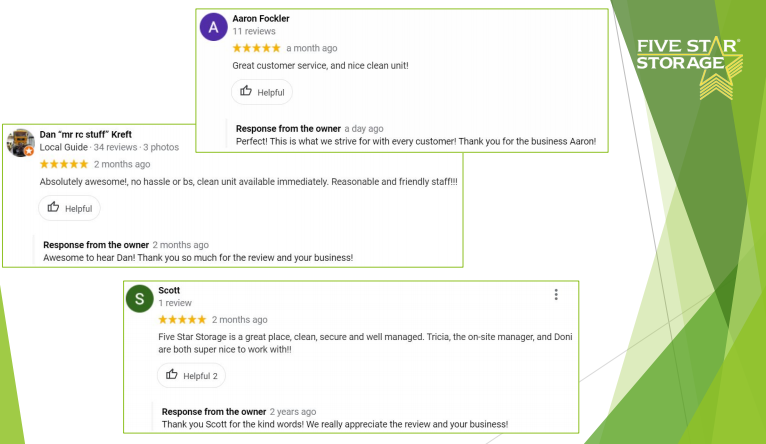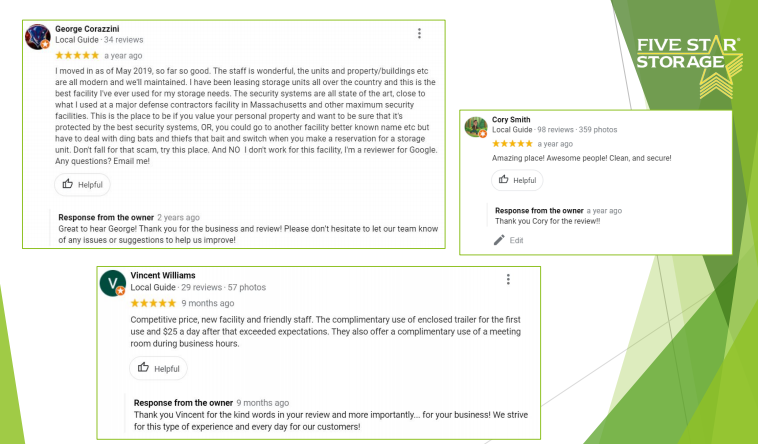 Five Star Storage – Legacy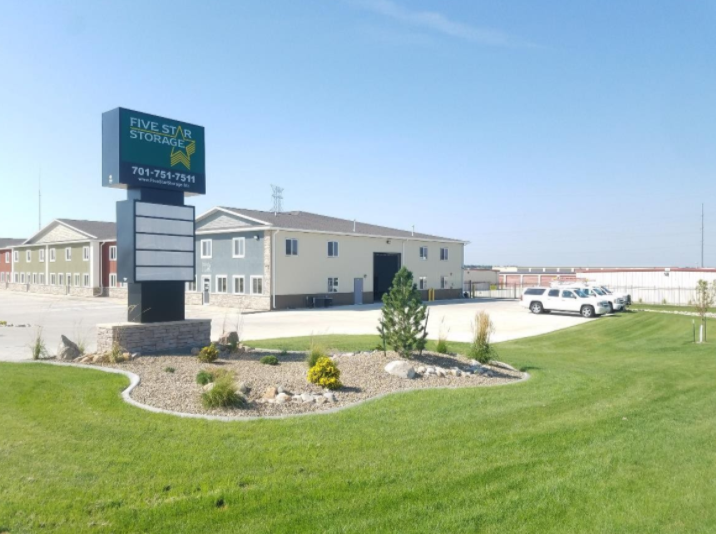 Five Star Storage – Legacy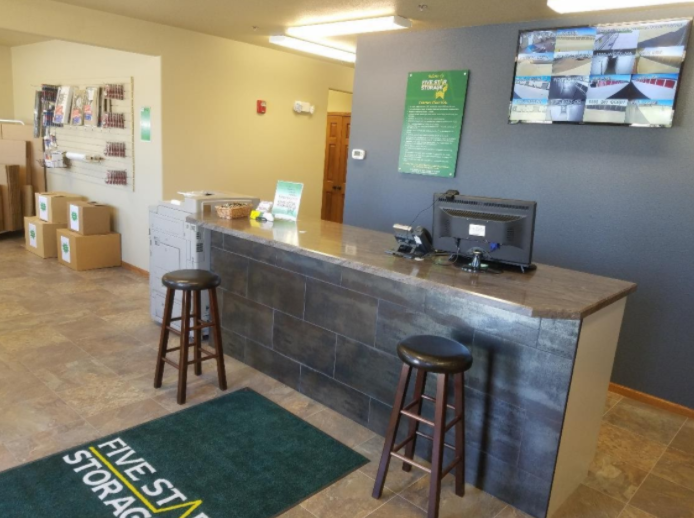 Five Star Storage – Legacy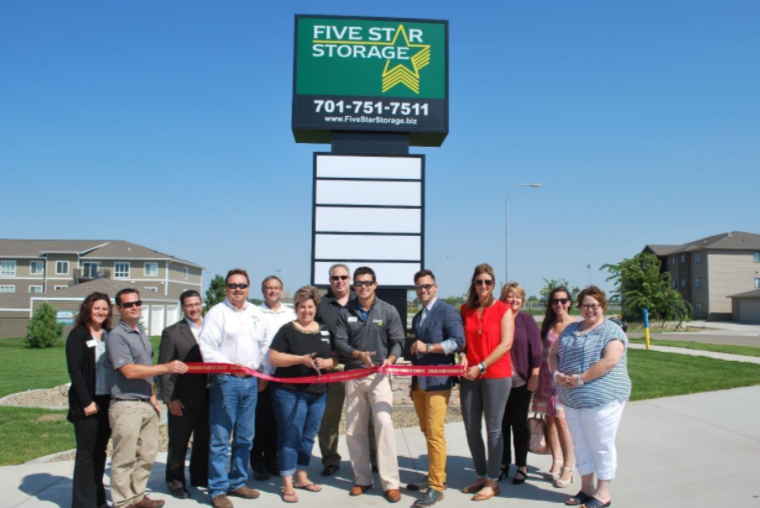 Five Star Storage – Legacy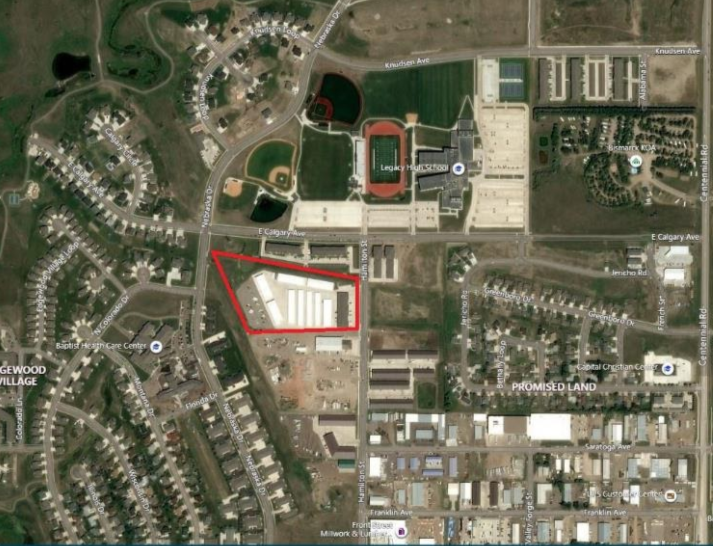 Proposed Development: Northeast Corner of Highway 1804 & Washington
Class-A Self-Storage Facility.
Offering a variety of sizes and types of storage to meet most any customer's needs.
High-end architecture will exceed most any other building for appearance.
Two level temperature-controlled building with elevator access to the upper floor, enclosed loading/unloading corridor to protect customers and attached rental office with retail store front and onsite restrooms for customers.
Fully enclosed and secured with state-of-the-art gate access technology.
Set access hours of 5am-10pm.
Estimate of around 30 HD video surveillance cameras throughout the entire facility.
Enhanced exterior aesthetics on buildings with decretive fencing.
Increased buffer yard requirement of 50 feet (rather than 20 feet) to neighboring property lines as well as increased landscape requirements compared to other current permitted uses based on existing commercial zoning.
Aerial View facing north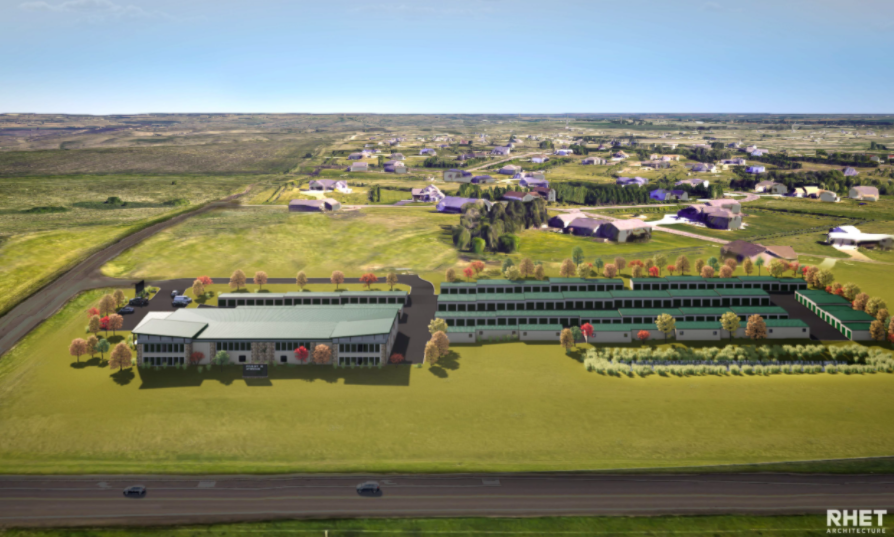 Looking Northeast near Roundabout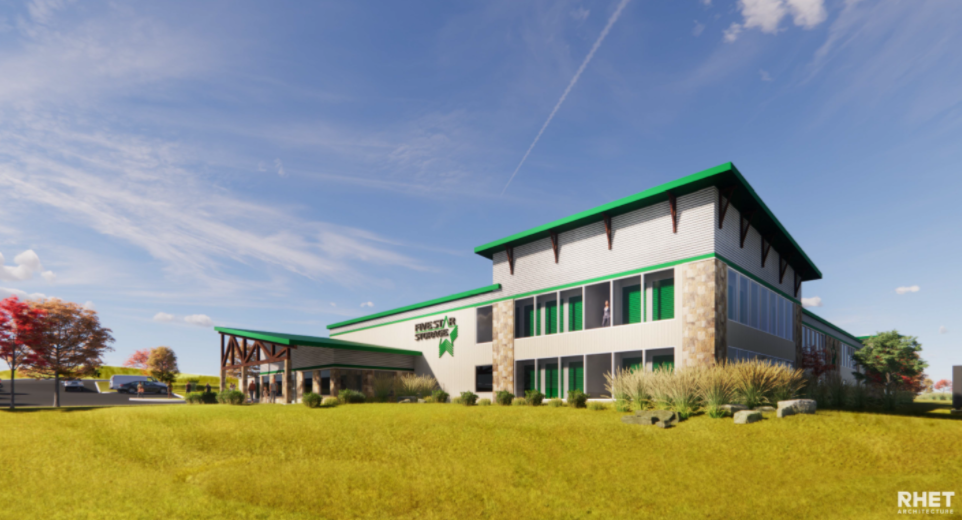 Looking North from Highway 1804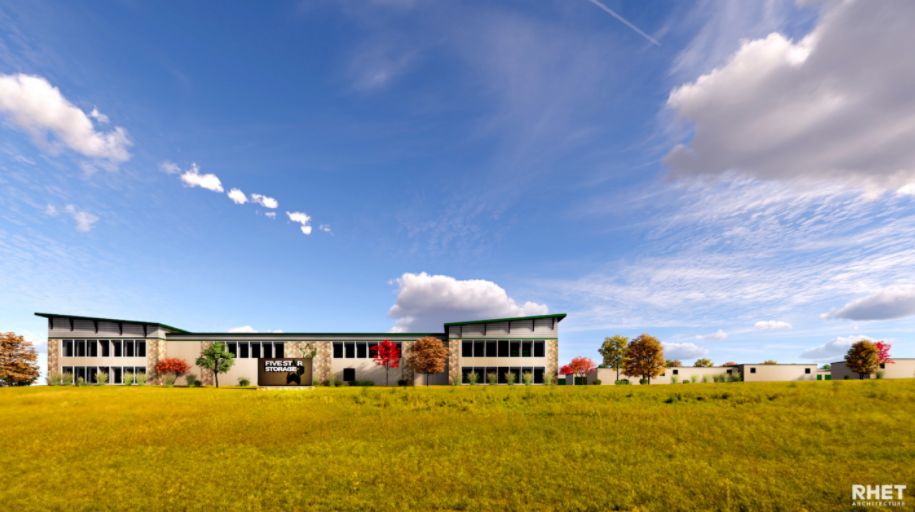 Proposed Site Plan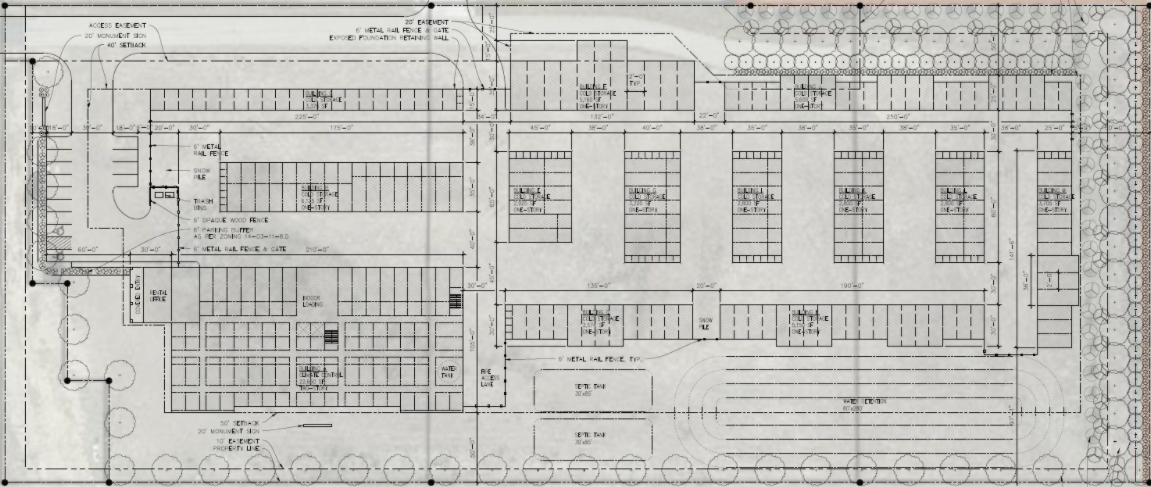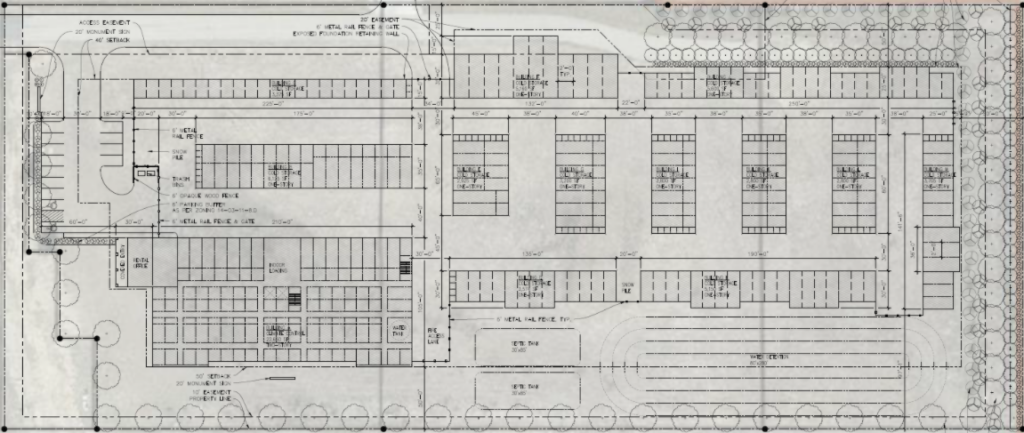 Northeast Corner: Red Lines = Decretive Fence
*Note the large amount of landscaping all around the boundary with adjacent residential neighbors. Also, how the buildings are used as buffers, plus designed to have the large backside walls 'broken up' for a more appealing visual perspective.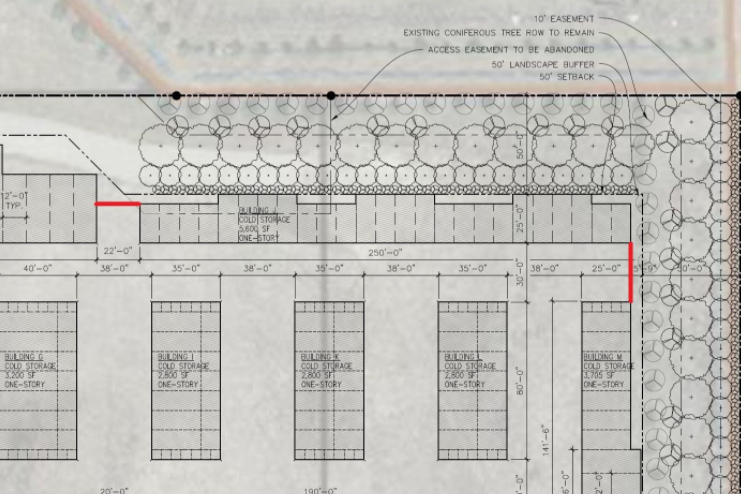 Southeast Corner: Red Lines = Decretive Fence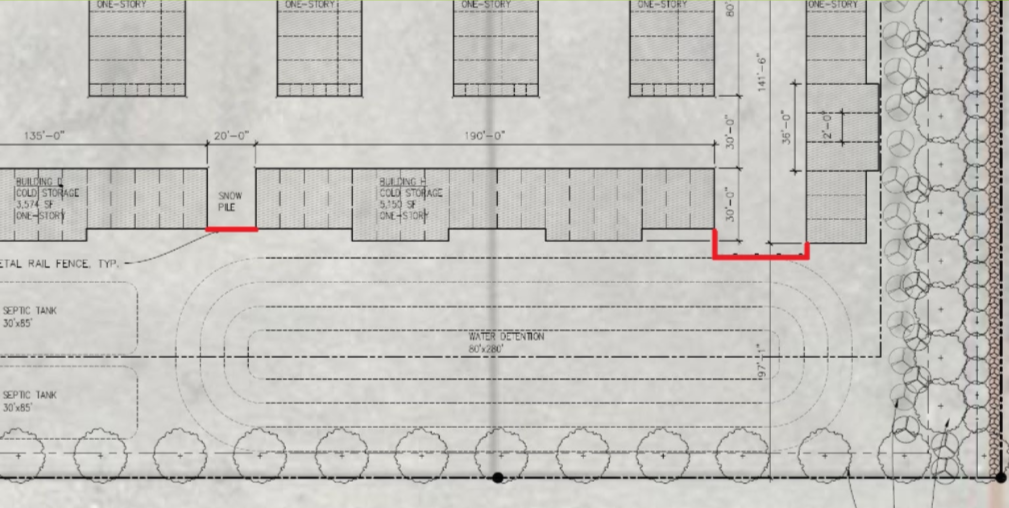 Southwest Corner: Red Lines = Decretive Fence & Gate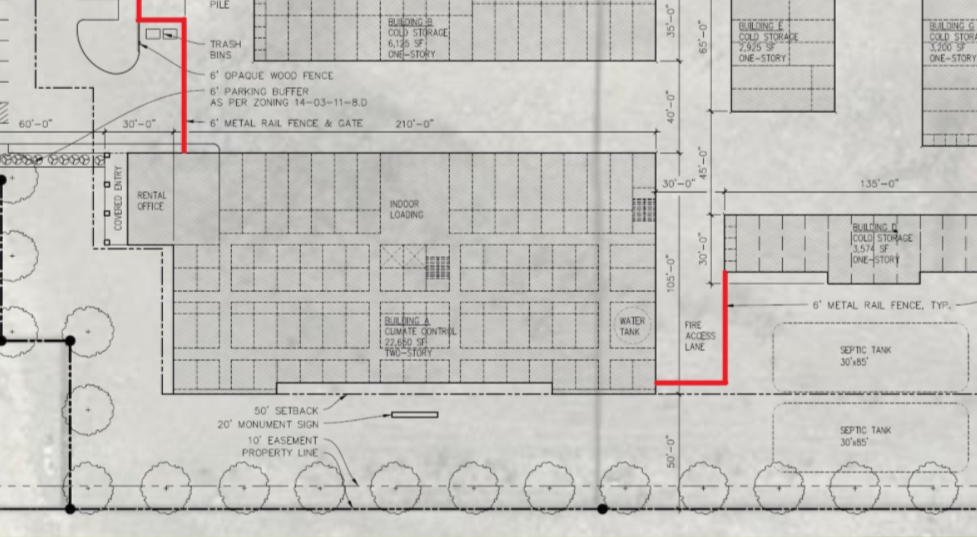 Northwest Corner: Red Lines = Decretive Fence & Gate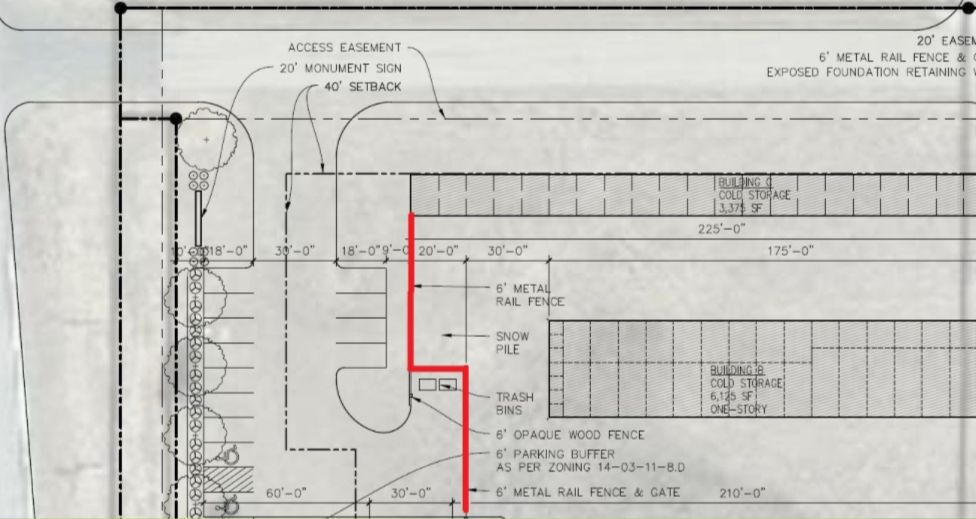 Zoning Change – What Is a P.U.D.?
Commercial (CA) to P.U.D. (planned urban development)
What is a P.U.D.?

Planned Urban Development

City officials sign off on all aspects of the development, that way, there can be no 'bait and switch' by a developer to a different design or use.

Any future changes/adjustments to the plan must be approved by city officials.

A P.U.D. does NOT mean a rezoning to general industrial use by any means.

Five Star Storage Requirements Are More Stringent Than Permitted Uses Today

50-foot buffer yard setback to adjacent neighborhood, which is 30 feet greater than current (CA) zoning requirement for permitted uses.

Extensive landscaping, also greater than current (CA) zoning requirement for permitted uses.
Current Zoning
Commercial (CA)
Unfortunately, if a developer proposed a project that was a permitted use under the current (CA) zoning, the surrounding neighbors do not have any say in what can be built on this parcel of land. There will be zero notification to surrounding neighbors and Township. Five Star's proposed use gives neighbors the chance to weigh in on design.
Some of the permitted uses any developer could immediately seek a building permit for on the subject property without neighbor involvement include:

Gas Station / Convenience Store

Buffer Yard setback requirement would be much less stringent than P.U.D. proposed by Five Star

Only 20 feet, which is 30 feet less than our proposed P.U.D. requirement.
Concerns & Misunderstandings Addressed
Not All Self-Storage Facilities Are Equal
Trash / Debris

Decretive fencing along with the back-ends of our perimeter buildings will provide a barrier to the neighboring community, thus preventing trash and/or debris from being spread or visible. Cleanliness and curb appeal are always a top priority for ALL our locations. Managers are checking sites daily for cleanliness and maintenance.

Regardless of management, the site is designed to keep trash from leaving the property in our North Dakota winds.

Security / Crime

In 5 years of being in the Bismarck community and managing close to 900 storage spaces, Five Star had 2 reported break-in incidents.

ZERO criminal activities on Hamilton Street location over past 2.5 years according to Bismarck Police Department records request.

After our Planning & Zoning meeting in May, an officer that was present with the Bismarck Police Department pulled our representatives aside to simply say thank you for the job we have done in our community by providing top notch security at our facilities, including what has been proposed here.

One of the 2 incidents occurred at our facility near the Bismarck airport. Within 24 hours, with the assistance of our camera footage, the Bismarck PD & Burleigh County Sherriff were able to locate the suspect. Not only was stolen property returned to the rightful owner, but catching this suspect also solved several other 'open' property crimes from the community.

24 Hour Access has no business in self-storage, and Five Star Storage sells itself on NOT offering 24-hour access unlike most all our local competitors. Generally nothing good is happening at a self-storage facility at 2:00AM. Access hours are 5:00AM – 10:00PM, 7 days a week.

Tens of thousands of dollars will be spent in high-end video surveillance and state-of-the-art gate system access control.
Traffic
Self-storage has proven to be one of the lowest traffic uses of any commercial property asset class across the nation. On average, Five Star Storage has approximately 20-30 entrances to the facility per day through our gate access control system, compared to hundreds if not thousands for other permitted uses under the property's current zoning.

The most common vehicles on site are cars, vans, and pickup trucks. Next would be professional mover trucks and U-Hauls. Rarely do we have large, 18-wheel van lines on site.

Majority would access by traveling on Washington, just north of the Roundabout.

Currently, a 100+ yard long right-hand turn lane exists between the roundabout and the turn in for our facility as well as Dakota Conference of Seventh-day Adventists.
Lighting
A well-lit facility is important not only for the safety of customers and employees, but also as a crime deterrent. However, we are respectful of our neighbors and seek to reduce diffused light as much as possible.

Five Star will have ample lighting within our driveways using wall pack mounted light fixtures that greatly decrease light diffusion versus pole mounted lighting solutions. Also, the layout of the perimeter buildings acting as barriers between the neighborhood, along with the elevation changes, will greatly reduce any amount of diffused nighttime lighting.
Noise
Self-Storage is one of the quietest real-estate classes due to the low traffic.

Some of the neighbors who reside directly adjacent to the parcel have complained regarding the increase in noise caused by the new roundabout at Washington/1804, likely from vehicles slowing down and then accelerating to get up the hill, or the use of jake breaks while descending the hill. Our facility would assist in acting as a buffer to help reduce the noise.
Need
It was expressed by one opponent at the P&Z meeting that the neighboring community doesn't need self storage.

Our Hamilton St. facility currently has a handful of customers that live in the area.

A very large amount of our customers reside west of Highway 83 and North of I-94. There are little to no options for self-storage within this rapidly expanding area of Bismarck.

As mentioned prior, Self-Storage solves storage needs across a wide range of customers. It is far from just serving those people with 'too much stuff'.

Our current Bismarck facilities are at all time highs for occupancy, as are many other facilities in the metro.
Outdoor Parking
This can be a concern of many neighbors due to the appearance that outdoor parking can bring a facility and neighborhood.

The need for vehicle, RV, boat, trailer and camper parking is extremely high within the Bismarck/Mandan community. This is due to a variety of reasons; however, the two main components driving this need are HOA rules and city ordinances.

Neither generally allow residents to park boats, RVs, campers, etc. on streets or within driveways for extended periods of time.

We will NOT offer any outdoor parking spaces at this new location for rent. This again would be within the P.U.D. requirements.

However, we have proposed a solution to still help with this community problem. We are proposing approximately 50 extra large, standard-indoor storage units that can accommodate a variety of RVs, camper trailers and boats. Wider and taller doors, with high ceiling heights plus proper planning for drive lanes widths and turning radius.
Grand Forks, ND (P.U.D.)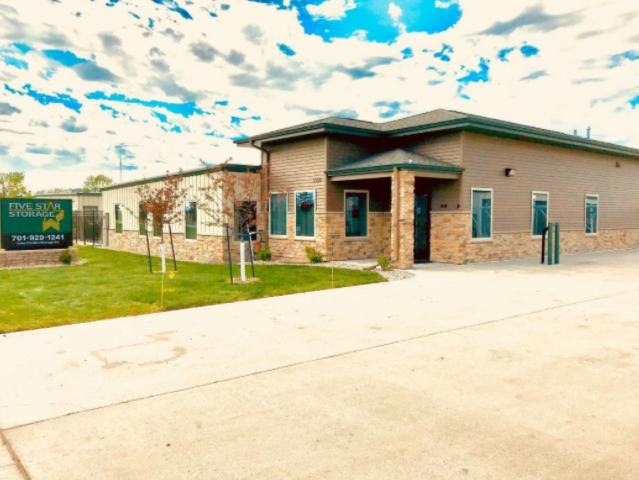 Grand Forks, ND (P.U.D.)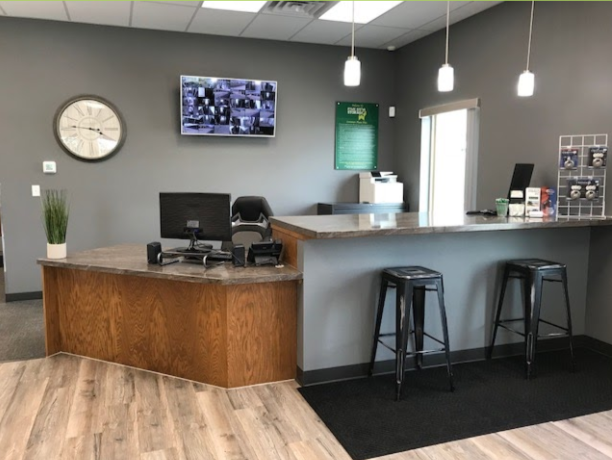 Grand Forks, ND (P.U.D.)
Northside, facing residential neighbors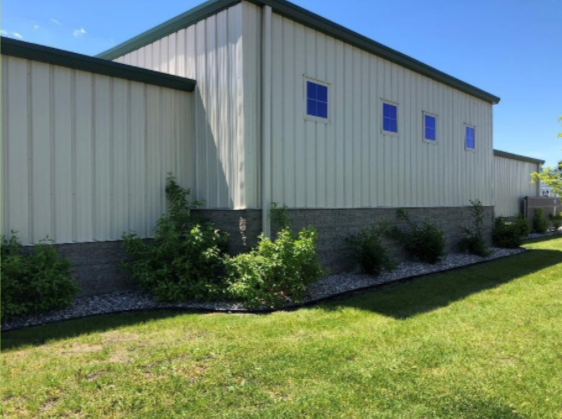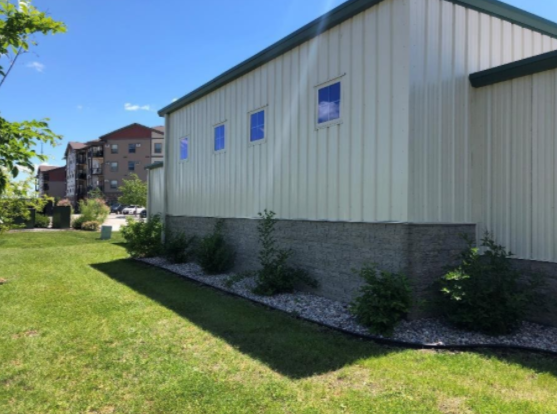 Grand Forks, ND (P.U.D.)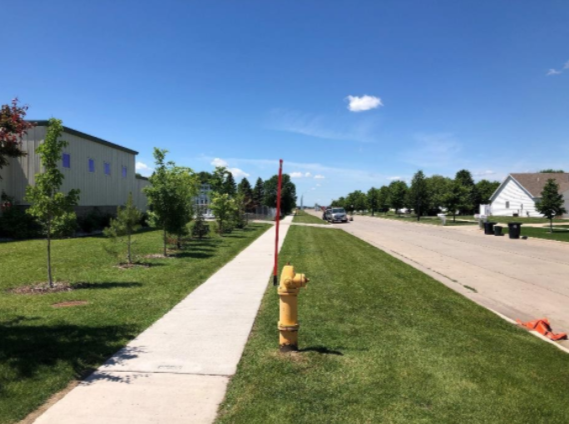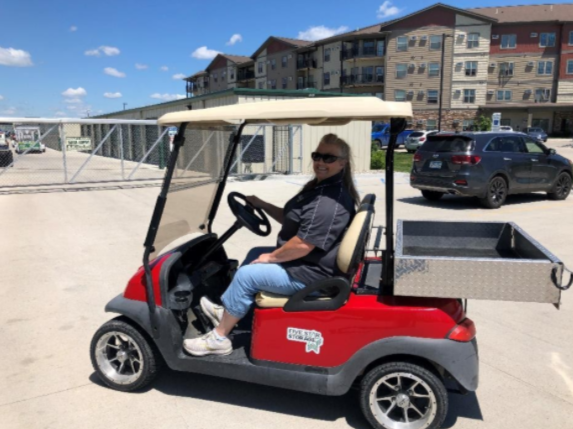 Grand Forks, ND (P.U.D.)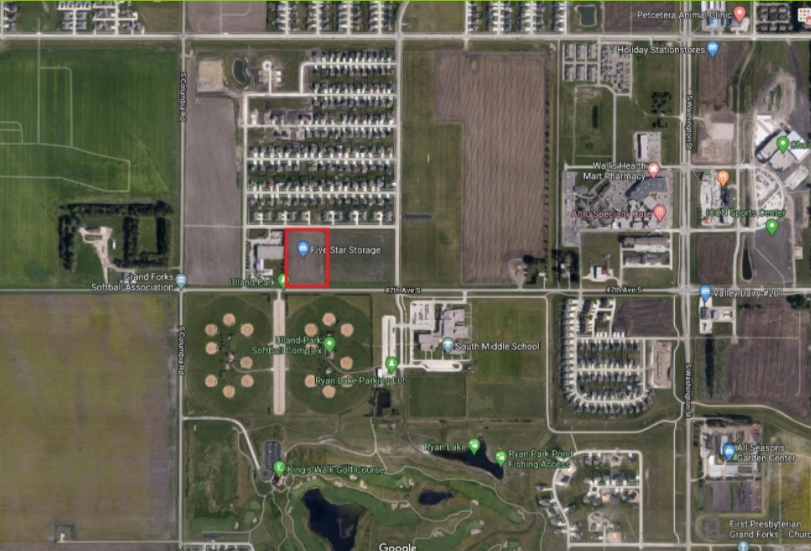 St. Paul, MN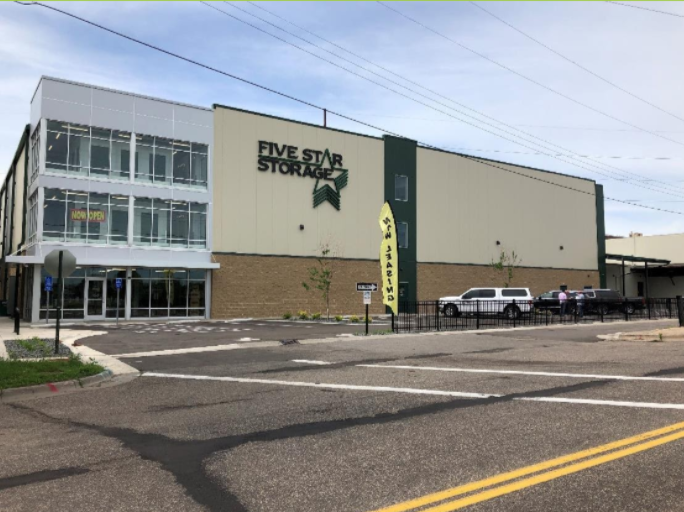 St. Paul, MN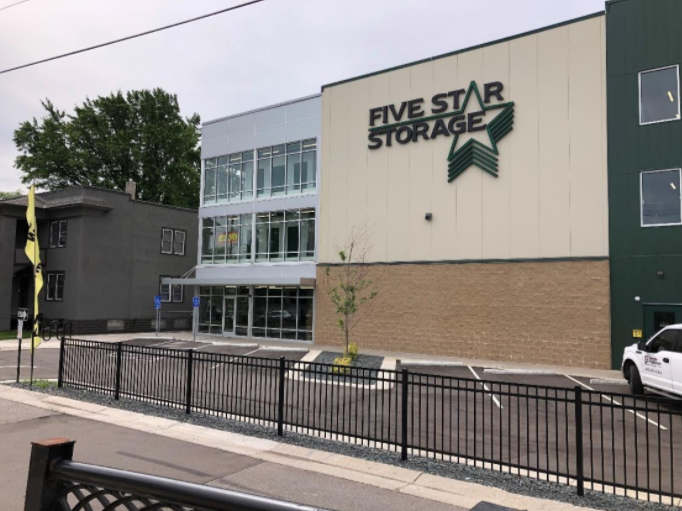 St. Paul, MN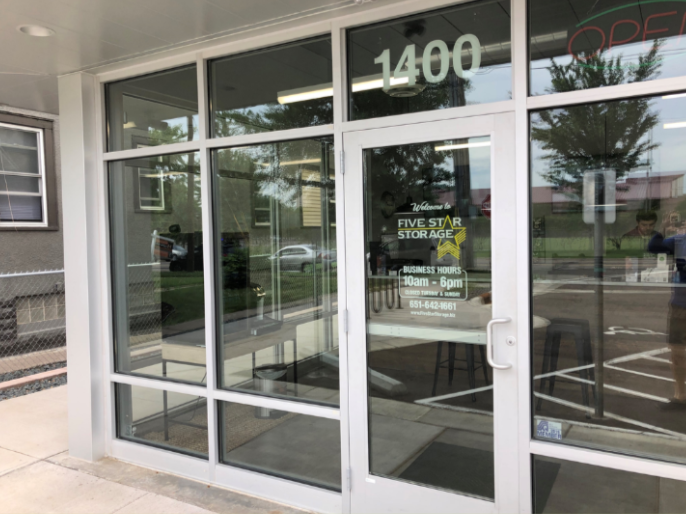 St. Paul, MN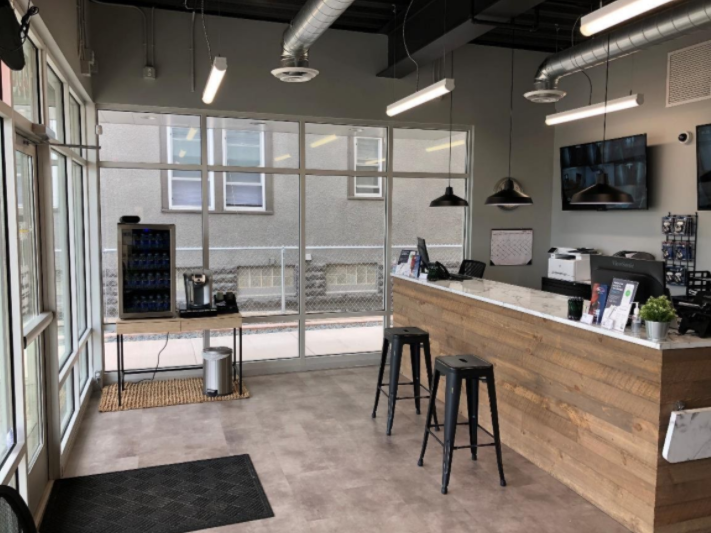 St. Paul, MN
Upcoming Meetings
Your Support of Our Project is Needed and Appreciated!
Hay Creek Township
Wednesday, July 7, 2021 @ 6:00PM (via Zoom only)

Click on the Zoom link on Hay Creek Township website
Bismarck City Commission
Tuesday, July 13, 2021 @ 5:15PM

221 North 5th St. – Bismarck, ND 58501
Public Comments will be accepted at this meeting, and we would greatly appreciate your support.
Contact Information