How to Declutter and Organize Your Garage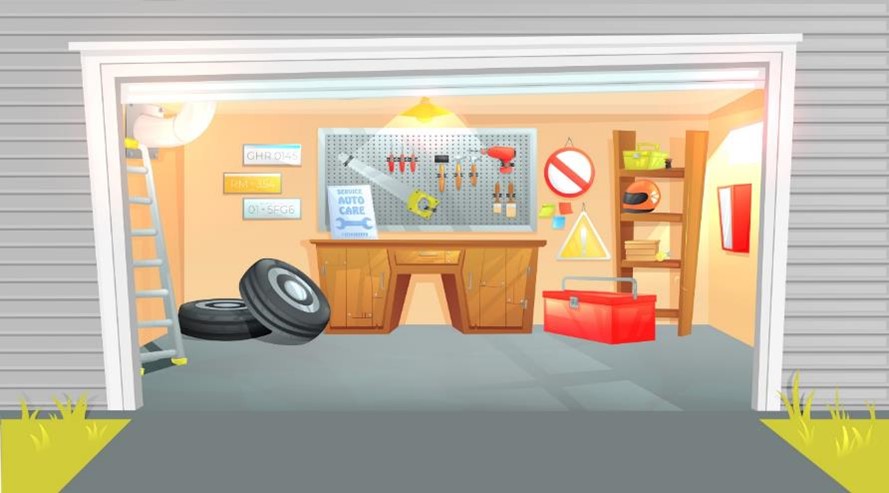 Garages are one of the most versatile spaces in our homes. Though conventionally used to store our vehicles, they can also operate as personal gyms, hobby spaces, workshops, and other functions.
However, too many belongings can make maneuvering around that space difficult and unpleasant. As such, Five Star Self Storage wants to take this moment to provide our best tips for cheap garage organization, so you can make space where there wasn't any, and find new paths towards a less stressful garage (and maybe even a home for that car that gets so cold in the winter and bakes like an oven in the summer).
We'll also show you how a personal self storage unit can alleviate a lot of stress in cases where you simply don't have the space at home for all your belongings.
Decluttering Like a Pro
Decluttering your garage can be a daunting task, but it's definitely doable with a little bit of effort.
Start by sorting through everything in your garage and getting rid of anything you don't need. This might include old furniture, clothes, toys, or other items that you no longer use. You'll be tempted to hold onto things for the sake of sentimentality and hypothetical 'what-if?' scenarios, but do the best you can to remove as many belongings as possible, anyways.
Place all your remaining belongings away from the space you intend to organize. This might seem counterintuitive, but it can be easier to pick-and-place items when you aren't imagining how your garage would look if there wasn't already a bunch of stuff in the way.
Plan Your DIY Garage Organization Strategy
A beautifully mapped-out garage begins with a plan. Start by thinking about what you want to store in your garage and what kind of system will work best for you. If you have an additional storage unit or shed that could be used for some items, keep that in mind while sorting your options.
Once you have a plan in mind and have decluttered the garage properly, you'll be able to see how much space you have to work with and how to execute the plan. A strong DIY garage organization strategy is to create zones in your garage to help arrange everything. You could have a zone for tools, a zone for sports equipment, a zone for gardening supplies, etc. This makes individual tasks—like lawn work, hobby work, or mechanical work—a breeze.
Cheap Garage Organization Items
If you're looking for a way to get your garage organized on a budget, there are a few items that can help. Peg boards, wire grids, and garage shelving can be purchased relatively cheaply and will help you to organize your tools, seasonal decorations, and other items. Boxes and cabinets are also a great way to organize and categorize smaller items. You can find boxes and cabinets in a variety of shapes and sizes, which makes them perfect for sorting screws, nails, or other small objects
It's worth noting that if your garage is more of a gym or hobby space, the exact items you buy or use to organize your belongings are subject to change. For example, you'll want a variety of weight racks for your assorted kettlebells, dumbbells, plates, and other training equipment. Similarly, a hunter will want to prioritize space for a gun cabinet or archery supplies, and a gardener might want suspended hanging racks for different varieties of plants or flowers.
Organize and Protect
With all your zones, shelves, cabinets in place, it's time to go through your garage with a fine-tooth comb and make sure everything is in its proper place, just as you'd imagined it in your DIY garage organization strategy.
For more fragile belongings, consider protecting them by wrapping them in bubble wrap, hanging them up off the floor, or otherwise putting them where they won't accidentally be bumped or scratched. Make sure anything on the walls are well-secured so they don't fall and hurt you or damage any vehicles that might be present. Additionally, it's important to be aware of weight limits for shelving, whether you're assembling your own apparatus or you've bought a store-built shelf online or at a store.
Start by sorting through everything and getting rid of anything you no longer need or use. This will help reduce the amount of clutter in your garage and make it easier to organize the remaining items.
Not Enough Garage Shelving? Use Self Storage
At the end of the day, no amount of efficient planning, organization tips, or decluttering techniques are enough to create new space out of thin air. Sometimes you need to acknowledge that you simply don't have room for that spare refrigerator and turn your eyes on a storage unit.
Self storage units are an affordable and effective way to store anything that your garage cannot comfortably allow. With 28 self storage facilities across Minnesota, North Dakota, and South Dakota, each of which has convenient amenities for your personal belongings.
Not sure how much storage you need, or if a storage unit is for you? Our month-to-month leases make it simple to pick out a storage unit and try it out. Ready to get started, but still have questions? Contact your nearest Five Star facility or check out our first time renter's guide or informational videos today.
More From Five Star Storage